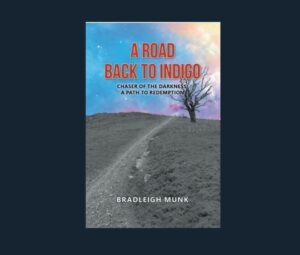 A Road BACK to INDIGO – Chapter One ©2022 Bradleigh Munk –
Walking through the doorway of the row house on Sixteenth Avenue, I found myself standing in the front reception area flanked by a richly decorated staircase. It was made from dark mahogany and stretched upward toward several windows filtering the daytime sun through brightly coloured stained glass. Looking toward the first landing, the rich darkness of the blue wallpaper, sporting small delicate flowers, sent me backward to another place and time still unknown to my current state of mind. The feelings of déjà vu foretold events soon to unfold and would change the direction of my path toward the next passage of time.
Streaming down from an unknown room, out of sight and still a mystery, the sound of a piano introduced itself, beckoning my soul to venture forth, taunting me to face my destiny. Slowly walking up the ancient stairway, I soon found myself face-to-face with another legend. Together with his band Freeze Party, William was an incredible singer and a world-renowned songwriter. I was told that his favorite colour was yellow, and his personality was just as warm and bright.
Happiness, however, had not always flooded into his life. When enduring upheaval and trying times with his family, specifically his now ex-wife, he sank to such lows that everyone, including his band, expressed concern for his safety. Strength, however, can come from all sources, and when one finds himself at the bottom and unable to pull up and out, personal growth becomes the safety net preventing one from plummeting further beyond reproach. This was the backstory to my friend William. If it wasn't for his inner strength and moxie, there would have been no one to step in and help when I was at one of my lowest points.
When Richard and I first met, he told me of the rivalry between the two. William was certain that the character Clark was written about him. I had to let him down gently and explained, "Yes, you are tall. However, you don't have long dark wavy hair. If you are patient, I'll include you in my next novel and even make you a superhero."
It became apparent that my words foretold my current situation and the desperate need for a special kind of help. I remember my first encounter with William. We attended a gathering of musicians who wanted to give back to the community by offering support and insight of the industry. The four of us—Richard, William, Sarah, and I—spent several hours talking about the future, the past, and what could be accomplished with the mounting support of several groups. They all touted experiences, with a vastness of talent, and was ready to hand off the torch to the unseasoned up-and-coming hopefuls.
It had been over three weeks since I last saw Richard, Jon, and Marc. My little family was missing without a trace, and unlike the tracking device Richard used to locate me after Frankie walked out on him, I didn't have a clue where to find them. I needed help, and William seemed to be my last hope. My mind wandered back to those fateful weeks before my small group of friends disappeared. Richard was trying to make amends with his mother after we returned back from the desert, and we decided to visit her shortly after we landed. Having Jon, Marc, and myself along sealed the deal, and we were once again a little family.
"How is it going?" asked Jon. He knew that it had been a close call, and when Richard told him of my plight, he became inconsolable, realizing how great the loss of a good friend would have been.
At first, he refused to talk with his brother until I explained to him, "It was out of his hands. He had no control of what karma had dealt him." I then assured him and Marc that if I were ever in the same situation, I would call them in hopes of avoiding anything that would be harmful to myself. We were sure at this point that Richard and I could weather any storm, and when moving forward our, bond could only get stronger. How soon this would actually be tested, for within the next few weeks, my little group was forced onto a road that would again lead us straight into the path of icebergs and epic ocean liners from the past.